2018 Midterms: Post-Election Panel and the Center's Opening Event
The Day After: Where is America Heading in the Wake of the 2018 Midterm Elections?
In a special post-election round-table discussion, we gathered a host of experts to analyze the results and speculate on what might be in store for America, and the world, in the next two years of the Trump Presidency. The panel, hosted by the Center's director Dr. Yoav Fromer, included senior TAU faculty members Prof. Yossi Shain (chair of the School of Government) and Dr. Yael Sternhell (Department of History and American Studies), as well as renowned Israeli journalists Nitzan Horowitz and Tal Schneider. The occasion also marked the formal opening of the Center and included remarks by the Dean of the Humanities, Prof. Leo Corry, Dr. Udi Sommer (Dept. of Political Science), Dr. Anat Lapidot-Firilla (Executive Director of the US-Israel Educational Fund) and Terry Davidson (Adviser to the Ambassador of the United States in Israel for Public Affairs and Culture)
Click on the image to see the Invitation. Follow the link to watch a video of the Opening event.
---
Special Guest Lecture: Prof. Steven Ross (University of Southern California)
14-15/11/18
Renowned historian Prof. Steven Ross (USC), visited the Center to give two lectures about his pioneering work on Jewish-American history and cinema. His first lecture, given in front of a public audience at Tel Aviv University, introduced themes from his recent book (a Pulizer Prize finalist) that surveyed the remarkable story behind Nazi plots against Hollywood and America in the 1930s. His second talk, with graduate students and faculty from the social sciences, focused on the historical relationship between politics and film in American history.
Click on the image to see the Invitation. Follow the link to watch a video of Prof. Steven Ross' talks.
---
Guest Lecture by Prof. Lawrence Baron (San Diego State): "The Pioneering American Jewish Women Directors: From Elaine May to Barbara Streisand"
03/05/19
Prof. Lawrence Baron is Professor Emeritus at University of San Diego and a lecturer of Modern Jewish History.
Prof. Baron opened his lecture with a piece of original poetry. He then went on to speak about American-Jewish directors in Hollywood and how their Jewish identity and the experience of growing up in a Jewish immigrant family in America were expressed in their works.
Later discussion introduced a number of prominent directors such as Elain May, a director of romantic comedies, and Barbara Streisand, a director, co-producer and a star of a famous American movie "Yentl", which addresses gender roles in Jewish society.
Prof. Baron also talked with the students about the latest wave of feminist Jewish female directors, who redefine female body image, feminine humor and challenge the boundaries of female comedies. One of such directors is Lena Dunham, who received Directors Guild of America Award for Outstanding Directing - Comedy Series in 2012.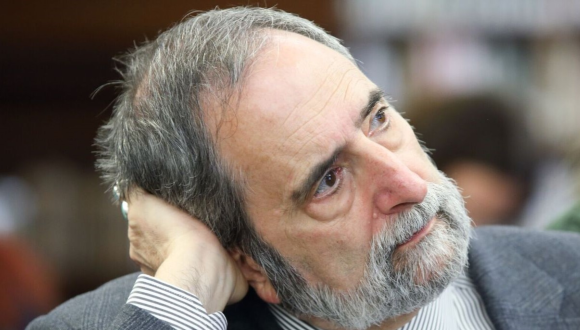 ---
Special Guest Lecture: Ajit Pai, Chairman of the Federal Communications Commission (FCC)
18/12/18
Chair of the FCC, Mr. Ajit Pai, held a rare Q&A session with our students and faculty from the department of Political Science during his offiial visit to Israel. Focusing on the challenges of regulating technological change, he talked about dilemmas of privacy, civil liberties and corporate responsibility while candidly addressing what the federal government can - and cannot - do, when it comes to the internet.
Click on the image to see the Invitation. Follow the link to watch an exclusive interview with Mr. Ajit Pai by the Center's director Dr. Yoav Fromer.
---
Can Separate Be Equal? The Promise & Peril of Equity for Women in Sports
Guest Lecturer: Dr. Jennifer Lee Hoffman, University of Washington
01/04
Dr. Jennifer Lee Hoffman is an Associate Professor at the Center for Leadership in Athletics University of Washington.
Other panelists included:
Ms. Vered Bouskila - Olympic Sailor and World Champion, VP of the Olympic Committee of Israel
Mr. Guy Azury - Head Coach of Israeli Women Soccer National Team
Mr. Lior Bartal - Sports Journalist
The panel was moderated by Dr. Udi Sommer, School of Political Science, Government and International Relations at TAU
Dr. Hoffman's current research is "at the intersection of the purposes of education, policy and decision-making in athletics". Part of her research focuses on the lack of women in senior levels of sports leadership. Dr. Hoffman has also explored the unintended consequences of state and federal gender equity policy for all women, with a recent publication on climate for women athletes and current work on the failure of Title IX policy to fully reach women of color. Her scholarship on gendered policies and practices in college sports appears in several books and publications, with a forthcoming book, College Sports and Institutional Values in Competition: Leadership Challenges, available in early 2020. Please follow this link to read more about the event and watch an exclusive interview and the panel discussion with Dr. Hoffman.
​
---
Workshop For American History High-School Teachers
11/04
Economic inequality, Trump's Foreign Policy, Hollywood's political impact and the gender politics of the "MeToo" Moment: The Center's inaugural workshop for American History high-school teachers was a huge success (and a lot of fun!)
Please follow the link for more photos and information
---
"Drawing the Past to Write the Future": GB Tran visits TAU to talk about his 2011 Graphic Novel "Vietnamerica"
Marking the publication of Dr. Sonia Weiner's book "American Migrant Fictions: Space, Narrative, Identity"
08-11/04
​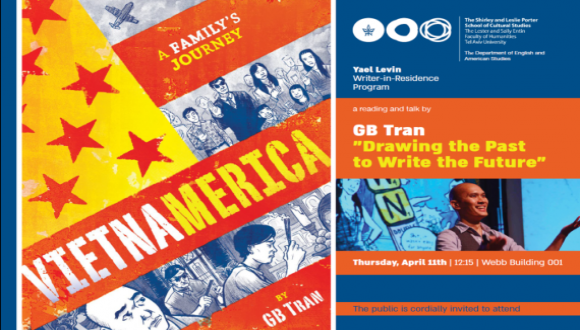 Tel-Aviv University was proud to host the Vietnamese-American graphic artist and storyteller GB Tran as this year's Yael Levin writer in residence. Tran is the author of the brilliantly drawn, innovatively composed and boundary-crossing graphic memoir, Vietnamerica (2011). The memoir follows the family's turbulent journey through war-torn Vietnam to the US, as it explores the complex identity of a second generation migrant-refugee who connects worlds and cultures in the attempt to suture familial wounds.
Please follow this link to read more about GB's talk, see the photos and watch an exclusive interview with GB conducted by Dr. Sonia Weiner, a lecturer at the Department of English and American Studies at TAU.